I am the Brother of Dragons
Our claim to fame!
Grades 6-12
The issues: Substance Abuse, Chemical Dependency, Peer Pressure
Synopsis
Sonny is facing the "dragon" of drug and alcohol abuse and the whole family suffers. This intense drama, based on real life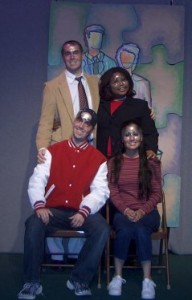 stories, shatters the walls of denial surrounding this disease and illuminates the path to recovery. This classic play is updated annually to remain pertinent to the youth culture.
Scene 1: Using the theatrical symbol of a mask, Mom, Dad, Sonny, and Sis appear to be your "typical all-American family", but as they pose as a "family portrait," we see that they are hiding behind the masks (pretense of a picture-perfect relationship) and that denial reigns.
Scene 2: This family's problem with chemical dependency is traced back to Dad's history. We see how the sickness can be passed down from the older to the younger generation, establishing a threatening cycle for the future.
Scene 3: We hear  how alcoholism has affected the family's relationships with each other, via Sis' talking to a friend about her home life.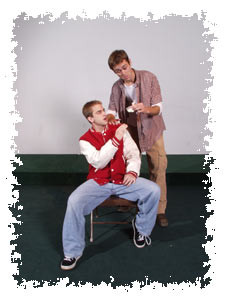 Scene 4: Sonny has developed an addiction to drugs and alcohol. As his addiction grows, it starts to affect various aspects of his life: family, school, and close friendships.
Scene 5: A theatrical look at what it's really like to be an addict, when your best friend is your dealer and a fellow user. We see Sonny's descent from casual user to a drug-dealing addict.
Scene 6: A dream sequence where Sonny qualifies for a try at the grand prize: total control over his mom and dad. As he and his parents act out the struggle for control, we see how each person is affected by the drastic changes in Sonny and the shifting of control in the family.
Scene 7: Sonny's drug addiction has reached a climax. Drugs and alcohol have become the controlling force in his life, making him a "walking chemical". This stylized scene illustrates just how chemicals manipulate Sonny's daily life. After Sonny collapses, Sis enters and begs him to take her to her volleyball game. He argues, but ends up taking her. After the exit, we hear a siren.
Scene 8: Mom and Dad are pacing in a hospital waiting room. Sis is in critical condition. Mom confronts Sonny about his addiction, giving him the choice of signing up for treatment at a rehabilitation center, or leaving their home.
Scene 9: As part of Sonny's treatment, Mom and Dad attend a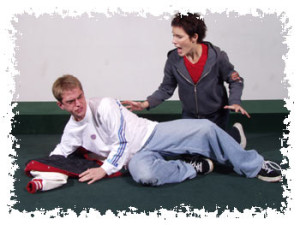 family intervention meeting with him. As the development and growth of Sonny's chemical dependency is reviewed, the family discusses their feelings at the different stages of his addiction. This scene marks a crucial turning point in Sonny's progress towards recovery. Family relationships begin to heal.
Scene 10: The family throws away the masks they had used at the beginning of the play to hide their true feelings and decides to rebuild their identity. They take responsibility for their own actions and put the past behind them and move toward restoration.
"Your group's presentation of Dragons was the most important part of our program last year."
– Director, Mon Valley Health Program
Bring a Saltworks play to your students and watch them use their imagination to resolve conflict, reach out for new healthy relationships, and discover hope for their lives!